To arrange an appointment with MyOxfordCounsellor
Our Private practice is located at:
Swinbourne Road,
Oxford,
OX4 4PQ
Tel.07590640484
E-mail:
This email address is being protected from spambots. You need JavaScript enabled to view it.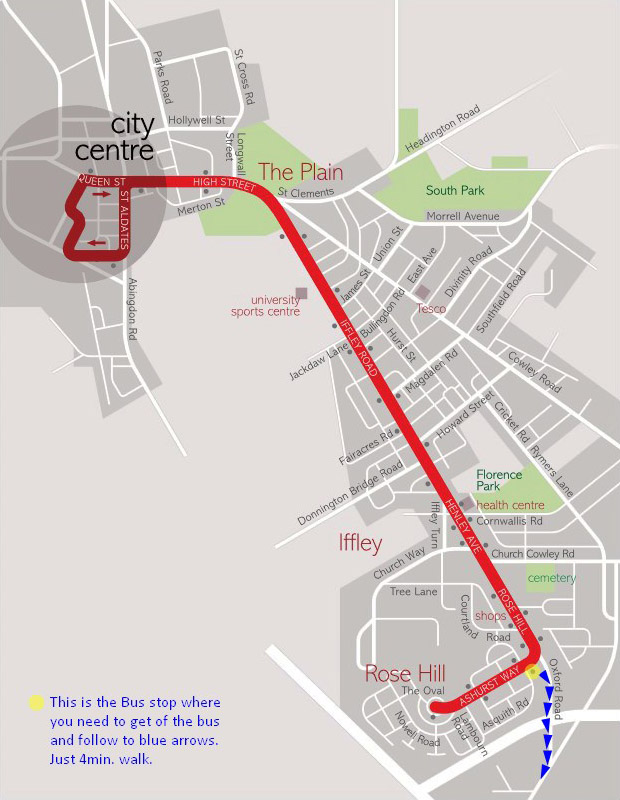 The Counselling Practice

The practice room I currently use for counselling is located in a private house at Swinbourne Road, Oxford. The privacy is well maintained so the client feels safe in a comfortable and confidential setting.
By car
If you get the first exit off the Oxford Ring Road at the Littlemore Roundabout. (This roundabout is between Cowley Roundabout, from which Tesco's and the BMW Car factory are visible, and Heyford Hill Roundabout, where Sainsbury's is situated.) After about 40 meters you will see Swinbourne Road which will be the first street on your left hand site.
By Bus



There is a bus stop near Swinbourne Road and a regular bus service is provided from Oxford.
Clients coming from Oxford may catch one of the more frequent buses to Rose Hill, just inside the Oxford Ring Road, and walk about 5min to 7 Swinbourne Road, passing below the Ring Road through a pedestrian underpass. One of the suitable buses going to Rose Hill is city3 and you have to get of the bus at Rose Hill Parade. Plan your bus journey.
Street Parking
There are free parking places on the residential Swinbourne Road where MyOxfordCounsellor practice is. Alternatively you can park your car for free at Oxford Road or Cowley Road near/opposite the church Saint Mary & Saint Nicholas in Littlemore. If you have any further queries about the car parking options please call us directly.
Membership No. VV00P02