When the mind suffers, the body cries out. It is our unresolved emotional issues, fears and difficulties of life which are the ones that lead eventually to the medical problems.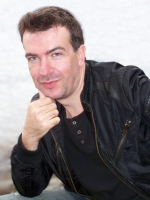 Ventsi Vasev has been a counsellor in Private Practice for 9 years and runs MyOxfordCounsellor.co.uk. He is trained in Cognitive-Behavioural Therapy. He also uses a variety of therapeutic methods including: Solution Focused and Gestalt techniques, Person-centred therapy and Psychodynamic approach. Because each client is unique, his approach is tailored to fit each person's individual needs.
In 2004 Ventsi Vasev graduated with a BA (Hons) in Psychology. During his study at university he also completed certified courses in Cognitive-Behavioural Therapy (CBT), Person-Centred Therapy, Gestalt therapy and Psychodynamic therapy. He also have extensive practical training in the areas of phobias, relationships, depression, anger management and traumas.
More recently Ventsi Vasev have undertaken a two-year Diploma course in Counselling and Psychotherapy leading to accreditation as a counsellor by the National Counselling Society. He is an Accredited Member of The National Counselling Society (NCS).

Ventsi Vasev specialise particularly in Internet Addiction, Video Games Addiction and Gambling Addiction. He have achieved very good results with clients who have been literally obsessed by their passion for gambling and video games. Therefore the methods in his work are informed by my practical experience.
He also sees clients with presenting issues like: relationships, depression, anxiety, stress, bereavement and loss, phobias, anger management, eating disorders, etc.
As a therapist, his goal is to create a safe place where you can freely express yourself without judgment, explore whatever is troubling you, and develop strategies to facilitate the change you desire. Together we will figure out what is holding you back and how to overcome it.
*****
Finding the right therapist to assist you in your healing and personal growth is an important decision that will have a significant impact on the outcome of your therapy. Research shows that the nature of the relationship between the client and the counsellor is one of the most important factors in the success of therapeutic input. I firmly believe that if you can't feel comfortable with your therapist, it will be very difficult for you to be able to open up and examine your issues to the degree necessary for healing and change. Therefore most important factor in determining whether your therapy is successful is your relationship with the therapist.

This is an Initial Consultation Form, which can sometimes be supported by additional questionnaires to clarify particular problems, in order to help both of us to make an informed decision about your therapeutic goals. I would like to emphasise that, whatever personal information you discuss with me will remain confidential.
Finally, I invite you to read my website. There is lots of information regarding counselling and what to expect when you come to see me for the first initial session and any subsequent sessions.
If you decide to begin your counselling journey with me,
please use one of the contacts provided to arrange an appointment with me.


Mr. Ventsi Vasev
MNCS Acc, BA (Hons)
Counsellor, Psychologist